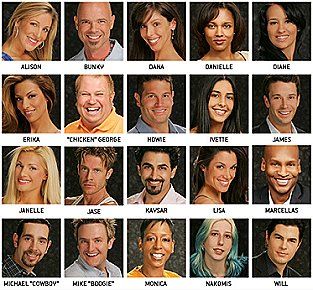 Big Brother 7 All-Stars Top 20 Contestants
Starting first thing Thursday morning, The Early Show on CBS will begin airing exclusive campaign speeches from the candidates in each of their next five shows (Thursday, Friday, Monday, Tuesday and Wednesday mornings)...they will show 4 candidates each day until all 20 Candidates have had their say!
And FANS ARE WELCOME on the plaza outside The Early Show studios at 59th & 5th in mid-town Manhattan to show their support.
We expect some of the Top 20 House Guests to show up LIVE at The Early Show Plaza to mingle with fans and try to sway your vote. In fact, CHICKEN GEORGE from Big Brother 1 is already planning to be there Thursday morning to meet his fans...in full chicken suit!!
Though other appearances aren't yet confirmed, potential BB7 All Stars are most likely to show up on the days their campaign speeches air. Here's the current schedule:
Thursday - June 22
'Chicken' George (will appear on the plaza), Diane, Nakomis, Howie
Friday - June 23
Marcellas, Erika, Lisa, Bunky
MONDAY - June 26
Mike 'Boogie,' Monica (likely to appear), James, Janelle
TUESDAY - June 27
Kaysar, Ivette, Jase, Alison
WEDNESDAY - June 28
Danielle, Michael 'Cowboy,' Dana (likely to appear), Will
So if you're in the New York City area, come campaign for your favorite candidate, and possibly appear on live TV! Campaign signs and banners are encouraged! (It's suggested you arrive at 7:30am for the 8am live show.)
And check out
CBS.com
daily to find out where else the Top 20 House Guests plan to campaign live across the country...then go out and meet them!! It's time to get out the vote and show your support for your favorite Big Brother All Stars!