FINAL DANCES & FINALE NIGHT!
Dancing With The Stars has the final dances tonight with tomorrow being the crowning of the disco ball trophy to one of these three. Tonight we also get to see their freestyle which is the most-anticipated dance of the night because anything goes! Keep refreshing as we are updating this live!
Ricki Lake and Derek Hough Cha cha cha – This fabulous couple was the first up tonight on this final dance night. Ricki looks really pumped and the judges seem VERY happy with her. She seemed a bit off in timing in a couple of spots but maybe that's just me because the judges are gushing over her. Don't get me wrong, I LOVE Ricki. Scores: 9/9/9 = 27/30.
Freestyle – The dance we've all been waiting for. Of course Derek's entrance on the dance floor was nothing short of spectacular. It was very energetic and entertaining. The audience of course LOVED it. Scores: 9/9/9 = 27/30 for a total of 54/60 for the night.
Robert Kardashian and Cheryl Burke Waltz – of all the dancers, Rob is the one that should win the award for coming the farthest. I really didn't think he'd make it this far but I'm glad he showed me wrong. He's worked SO hard. He and Cheryl look beautiful during this dance. My goodness he could really win this and Ithink that would help his confidence tremendously! Scores: 9/9/9 = 27/30.
Freestyle – I loved Rob's gangsta look. Usually freestyles are a little more fast moving but they are still doing some incredible moves considering the tempo of the music is slower than usual. Rob did amazing!! When he was twirling Cheryl around I really was afraid he would drop her. Luckily he had her by the vagina so all was good. Scores10/10/10 = 30/30 for 57/60.
J.R. Martinez and Karina Smirnoff Cha cha cha – Loved the rehearsal package with Len helping him out. I know he gets crusty but I think he's a sweety for the most part. This was a very sexy and tight cha cha cha. That news that his ankle was okay really helped him out psychologically. He didn't get the best response from the judges because he was off-time. This worries me greatly. Scoares: 8/7/9 = 24/30.
Freestyle – Their rehearsal package looked brutal. I really hope he doesn't hurt her during that crazy stunt they plan on doing. Now this is the kind of freestyle I was hoping to see. Man Karina's body is totally banging in that outfit. What a stellar performance! Scores: 10/20/10 = 30/30 for a totally of 54/60.
Here's how the leaderboard looked going into the final moments of the telecast:
Judges' Leaderboard (Total for First Three Finale Dances + Carrie Ann, Len, and Bruno Scores for Instant Samba)
Rob Kardashian and Cheryl Burke: 83 + 10, 10, 10: 30 = 113
J.R. Martinez and Karina Smirnoff: 82 + 10, 10, 10: 30 = 112
And then it came time to announce which couple had the highest overall total of judges' scores and viewer votes.
Winner of Dancing With the Stars Season 13 and the Coveted Mirrorball Trophy!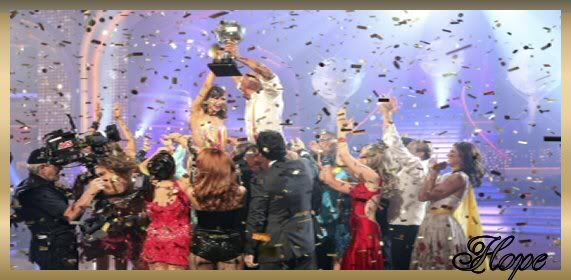 It was one of the best seasons ever! The stars really gave their all. Thank you to everyone who journeyed with me through my weekly recaps while I experienced technical error, bronchitis and the birth of my 2nd granddaughter. It was nice to be able to come here when I had a moment to myself to share the show with you.
~HopeSDMF~