This week on Dancing With the Stars there was a celebration of Broadway!
The stars danced to music from Broadway Musicals.
It was a night of very strong emotions to say the least. The judges have been making some
very low brow comments and the dancers and the stars are fed up with it.
However this recap is not about that and Im going to just stick to the performances.
The show on Monday began with performers from Tony nominated "Sister Act" dressed as nuns danced and sang to "Raise Your Voice" and "Sunday Morning Fever"
On to the dances:
Ricki Lake and Derek Hough - Quickstep to 'Luck Be A Lady' from Guys and Dolls
Score: 29 out of 30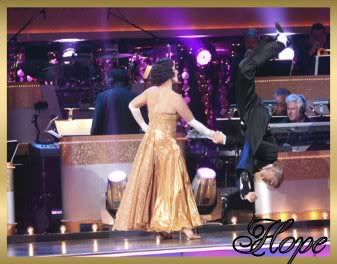 Rob Kardashian and Cheryl Burke - Cha Cha to 'Walk Like A Man' from Jersey Boys
Score: 22 out of 30
Nancy Grace and Tristan McManus - Foxtrot to 'Always Look On The Bright Side of Life' from Monty Python's Spamalot
Score: 24 out of 30
Hope Solo and Maksim Chmerkovskiy - Rumba to 'Seasons of Love' from Rent
Score: 20 out of 30
Score: 29 out of 30
Chaz Bono and Lacey Schwimmer - Tango to 'Phantom of the Opera' from Phantom of the Opera
Score: 19 out of 30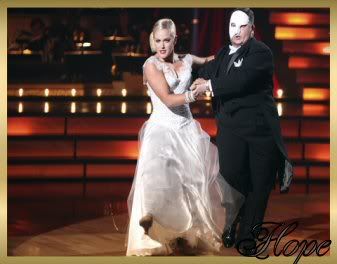 David Arquette and Kym Johnson - Quickstep to 'We Go Together' from Grease
Score: 23 out of 30
JR Martinez and Karina Smirnoff - Quickstep to 'Hot Honey Rag' from Chicago
Score: 29 out of 30
On the results show Tuesday the show began with the judges asking for a "encore dance" by JR Martinez and Karina Smirnoff
who a Quickstep to 'Hot Honey Rag' from Chicago.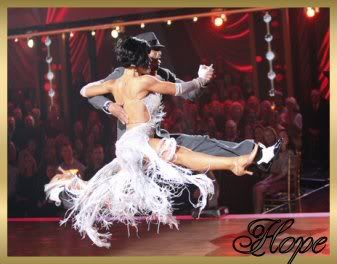 There were performances by 4 time CMA female vocalist winner Martina Mcbride who sang her current
single "Im gonna to love you through it"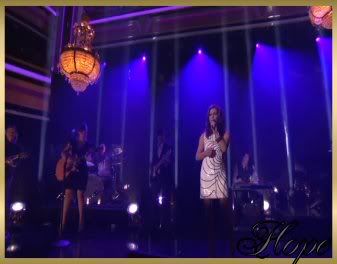 Corbin Bleu and a LA dance troop performed The Macy's Stars of Dance and Kristin Chenoweth performed
her song "Lessons Learned and Lacy Schwimmer choreographed and performed in a special Halloween
Dance. The stars and the dancers performed a group dance.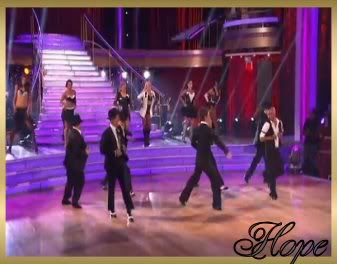 Voting took place from the beginning of the show until the end.
The final 2 couples who were left in jeopardy were
Hope and Maks and Chaz and Lacey.
The couple going home this week is
Chaz Bono and Lacey Schwimmer.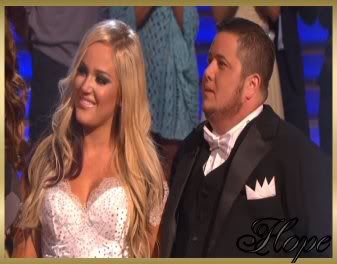 It was a pleasure to see Chaz performing especially with Lacey Schwimmer. He could
not had got a better professional then Lacey to dance with or maybe I am bias since she
was my daughters dance teacher.
It appeared to be a very emotional goodbye for Chaz and the rest of the
stars and performers.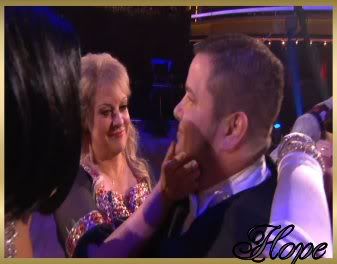 Next week is Halloween so it should be some good fun!