The Houseguest woke up to a In house lock down ( while the crew were building something outside for the HOH comp).
Boogie seems to be feeling disgruntled with Brittney due to the fact
that Shane the HOH this week also won the POV and used
it to save Ashley and put Frank on the block with Joe.
Boogie says to Frank "Britney is the worst coach in the house".
Joe who is a "Have Not" this week and only allowed to
eat slop may be on the verge of a possible "penalty vote".
While he was preparing a "avacado cheesecake"
for the other Houseguest he slathered his fingers
with batter numerous times and then got down to some finger licking.
In the past when Houseguest violate the rules they
have recieved automatic penalty votes.
The plan seems to be to blindside Frank and
vote him out.
Later in the day Joe gets called into the Diary Room
and is warned about tasting food while he is a Have Not.
Shane and Britney agree to blame Danielle if their plan
to blindside Frank and vote him out does not happen.
The day was filled with lots of small talk about things
like what the Houseguest can expect after the show. For the
first time ever the "nominee's eviction pleads/speeches
have been pre taped making people think there will be a "twist"
in the game and the buzz around the house is that the
coaches will be coming into the game on Thursday.
Danielle who is a nurse has been lying to everyone
saying she is a kindergarten teacher(Why? Im not sure..)
Britney is not buying it and calls her out on it
but Danielle refuses to tell the truth.
As usual there was alot of people saying one
thing to one person and another to someone else.
Alot of meaningless resassurance's Ashley told Dan
if she wins HOH Ian will be her target.
Janelle feels they should target Ian and Jenn.
The rest of the night goes down with nothing eventful
happening and more and more of all the Houseguest
making promises and deals.
I try to keep my opinion out of my recaps but I
have to say that what is going on this season with
these people is quite annoying. The coach twist really has
turned this game upside down making this one of the
most indecisive cast of people thus far. Do not get me
wrong I love the twist but it seems to really make everyone
more guarded and less interactive with anyone.
The highlight of Wednesday?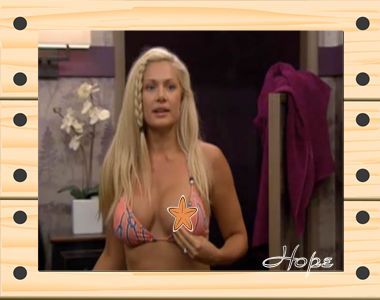 Janelle walking around in a bikini unaware
she was having a wardrobe malfunction and her
bikini top had slipped to the side.
~I want to send a big "THANK YOU" to the daily updaters! I appreciate your time and help~