Due to the live feeds being down since yesterday September 6th at 2:42pm until tonight Wednesday September 7th 9:00pm a complete recap is not possible. Here is a recap of the of September 7th.
In order to understand what ocured on September 7th I am recalling a few important events that ocured the days before.
Mon Sep 5, 11:33 AM Adam did not use the POV leaving Kalia and Porsche on the block.
Mon Sep 5, 4:32 PM The house was just informed that the eviction is tomorrow.
Tue Sep 6, 2:42 PM Feeds change to early days of BB13 re-runs. Live Feeds will be down until after the live show is shown on the West coast Wednesday evening.
This part of the recap will give you a general idea what was missed while the feeds were down on Tuesday September 6th at 2:42pm until Wednesday September 7th at 9:00pm after the CBS broadcast. It will come from the CBS broadcast that aired Wednesday September 7th at 8:00pm Big Brother time (west coast)
On the CBS Broadcast we see the live eviction. Kalia and Porsche are on the block.
(Adam and Jordan told Rachel earlier they would vote to evict Kalia)
The HGs vote. Adam keeps his word and votes to evict Kalia. Jordan knows if there is a tie Rachel will be responsible to break the tie. In a effort secure a possible jury vote for herself Jordan betrays Rachel and votes to keep Kalia knowing that it will be Rachel who will have to get her hands dirty and break the tie sending Kalia home. (If Jordan can win HOH or a Veto comp that sneaky move may work but the likelyhood of that happening is slim and now all Jordan has managed to do is make her self look bad before she is sent home). By a vote of 2-1 Kalia is evicted.
Next is the HOH competition where Julie will ask 6 questions in regards to the Fortune tellers fortunes.
Whoever has the most questions right after the 6 questions is the new HOH.
Julie reads the questions to the HGs.
Porsche gets 2 correct.
Jordan gets 4 correct.
Adam gets all 6 questions correct making him the new HOH.
Adam is overjoyed and relieved. He grunts and throws up the Heavy Metal Horns \m/ with his hands.
Wed Sep 7, 9:00 PM Feeds are back!
Rachel, Adam and Porsche in HOH playing cards. (They have a real deck of cards now)
Jordan in the Candy room ironing. Soon after Jordan is called to the DR. Rachel, Adam and Porsche
joking about different scenarios that could happen if Jordan leaves tomorrow, like giving her the clown
that was in Adams HOH basket to give to Jeff. Porsche suggest they cut the clowns shoe off and give it to
Jordan to give to Jeff in jury house.
Wed Sep 7, 9:52 PM Rachel, Adam and Porsche in HOH still playing cards.Rachel gets up to use the bathroom in the HOH room & Porsche whispers with Adam.
Wed Sep 7, 9:54 PM Porsche and Adam talking and they are saying that Jordan had a shot and won and she asks Adam is she allowed to say who she is evicting and Big Brother comes over the mic and says "Porsche No". Rachel walks back in from the bathroom and says "what?" in regards to Big Brother telling Porsche "No". Porsche says to Rachel it was nothing and Adam covers for her and tells Rachel it was in regards to Porsche not being able to sleep on his HOH couch. Porsche says she will get a "No" again if she tries to tell Rachel what she said and Big Brother comes on the mic and says "Yes"
Wed Sep 7, 9:57 PM As Jordan walks from SR to the kitchen she walks past the memory wall.
According to memory wall Porsche and Jordan were nominated because Rachels key and Adam's key
are hanging under their photos on the memory wall.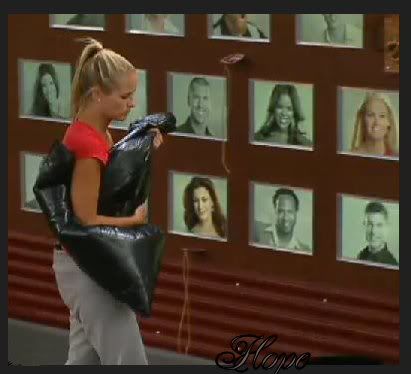 (Porsche must have won the POV since she was talking about whether she is allowed to say who she is evicting)
Wed Sep 7, 10:12 PM Jordan now in HOH. All the HGs are all playing cards in the HOH room.
It is official Porsche has won the POV. It is confirmed in the conversation below.
Wed Sep 7, 10:14 PM All the HGs are talking about who might get a interview on the show and Jordan ask if she will be going to the jury house right behind Kalia. Rachel tells Jordan you do not know if its you being evicted. Rachel says technically Porsche is still on the block until she uses the veto. Adam tells Jordan that Porsche might not use the veto and they all laugh.
Wed Sep 7, 10:18 PM Jordan asks the other HG if they think Jeff's wine that she saved is safe in her bag, Rachel tells her to put it in her BB bag.Jordan decides to go ask in the DR because she doesn't want it to break all over her clothes. Jordan comes out of DR about 2 minutes after going in & goes into the candy room & gets into bed. Rachel, Adam and Porsche all still playing cards in the HOH room where they are making jokes and having general chit chat. This continues until 11:00pm when Porsche is called to the DR. After Porsche was called to DR Adam was giving Rachel hope that she was staying.
Wed Sep 7, 11:28 PM Porsche is back in the HOH with Adam and Rachel.
They spend the rest of the night playing cards and talking about the other evicted HGs
Thu Sep 8, 12:17 AM Card game ends, Rachel and Porsche leave HOH and go to the BR to prepare for bed. Jordan has been tossing and turning trying to sleep for the past hour. (It seems like she knows she is the one being evicted).
Thu Sep 8, 12:39 AM BBT Everyone is in their beds
Thank you to all the updaters for their help with this recap.