Poetic justice and demons haunting this week on Survivor.
Semhar arriving at Redemption Island all by her lonesome. She is a bit upset with her early exit,
She spends her first night alone reciting "poetry."
At Savaii Cochran thanks his tribe repeatedly for not voting him out. He goes against his mother's wishes
and uses a machete and tries to become a harder worker for his tribe.
At Upolu, rumors start to swirl that someone may have found a hidden Immunity Idol.
Ozzy who is searching high and low for an Idol. He finds the hidden immunity idol and stashes it away
for safe keeping. He vows to use it this time (he had one on a previous season and did not play it and was voted out).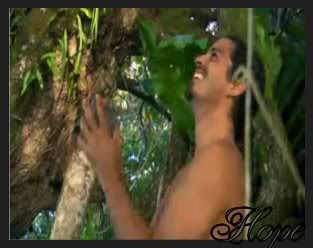 Brandon does not like lying to Coach about anything. Brandon lifts up his shirt sleeve and reveals
to Coach his "Lil Hantz" tattoo. Coach is floored. Brandon tells Coach "Keep that on the DL,".
Coach feels that it was a sincere gesture that Brandon shared it with him.
Brandon for seemingly no other reason than that she is good looking and that maybe she knows it
wants Mikayla out of the game.
Christine who found a clue for the hidden immunity idol. She has been searching for the idol.
Immunity is up for grabs again as well as a reward in the form of blankets, mats, and pillows.
The challenge consisted of 4 players unraveling themselves from a post to release a key
that would unlock the remaining 4 to begin a puzzle. The puzzle involved pushing heavy shapes around a square platform.
Despite a huge lead by Upolu, it was Savaii that flew through the puzzle in order to win immunity and rewards sending Upolu to their first Tribal Council.
Coach wants Christine to go home and informs the others he has seen her digging around searching
for the hidden immunity idol. He suggest they spilt the votes for Christine and Stacey (since
Stacey is close with Christine) to flush out the idol. Brandon lies to Coach and says that he has gotten
Christine and Stacey to vote for Mikayla. Despite the lies no one wants to vote Mikayla out just yet
as they feel she is good to win challenges.
At tribal council Coach mentions that he heard Christine and Stacey were voting for Mikayla, and they both deny it.
Coach does not reveal who he heard this lie from. Brandon decides to be honest and admits he tried to get Mikayla voted out.
The votes are cast and no Idol is played. In a 4-3-1-1 vote, Christine was sent to Redemption Island,
where she'll face off in a Duel with Semhar next week.