Survivor's Rupert Boneham To Appear At The Reality TV Convention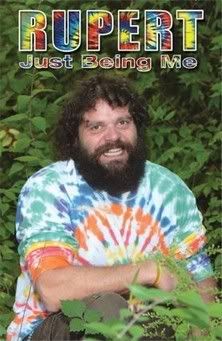 The Reality TV Convention and LifePress announced today that Survivor's Rupert Boneham will be appearing at the second annual Reality TV Convention in Nashville, Tennessee, on June 30 & July 1, 2007. Rupert Boneham appeared on both Survivor Pearl Islands and Survivor All-Stars. After Survivor All-Stars, Rupert Boneham was awarded a million dollars when he was voted "America's Favorite Survivor."
The 2007 Reality TV Convention is a reality TV fan-focused event that includes a meet and greet with reality TV stars, panel discussions on reality TV shows, and information on auditioning for reality TV shows. The 2007 Reality TV Convention features reality stars from shows such as American Idol, Amazing Race, Big Brother, Survivor, The Biggest Loser, and more. Last year's Reality TV Convention received extensive media coverage, including a segment on Fox Reality's Reality Remix and coverage in USA Today and TV Guide.
The second annual Reality TV Convention is being sponsored by several of the web's most popular destinations for reality TV news and information such as Reality TV Magazine, Jokers Updates, TVGrapevine, Reality Speaking, Reality Wanted, Reality Insiders, BB Lane, Reality Exploits, and Idol Stalker.
JokersUpdates.com, which is a reality site with more than 20,000 registered members, is a staunch supporter of the Reality TV Convention and will be hosting the Jokers Big Brother Party on Saturday night at the Nashville Palace. At the party, Big Brother's Chicken George will MC the Reality Awards, taken from all current reality shows.
Rupert Boneham will be signing copies of his new book "Rupert: Just Being Me" at the Reality TV Convention. "Rupert: Just Being Me" is Rupert's first-person account of his wild ride from obscurity and hardship to fame and fortune. "I've been on an amazing adventure," explains Rupert in the book's first chapter. "I'm still making discoveries. I'm learning about the way the world works and the way it doesn't a lot of the time. Most of all, I'm learning more about who I really am."
Reality TV Convention co-founder and Reality TV Magazine Editor-In-Chief Joe "Reality" Blackmon said "We're very excited to have Survivor's Rupert Boneham joining us at the Reality TV Convention. I just finished reading "Rupert: Just Being Me" and it is a fascinating look into the life of an amazing individual who faced and overcame many hardships, rose to fame through a reality TV show, and now uses his fame to help troubled youth through Rupert's Kids. I became a big fan of Rupert's when I watched him on Survivor, and I am even a bigger fan after reading his book and realizing the struggles he went through before getting to where he is today."
For more information on LifePress, visit the
Official Site
. For more information on "Rupert: Just Being Me" or Rupert's Kids, visit Rupert Boneham's official website at
Rupert's Kids
. For more information on the Reality TV Convention, visit the official website at
here
or the official Reality TV Convention MySpace page at
here
.