This week will Boogie be evicted by "The Quack Pack"?
This is a brief rundown of the situation this week. Boogie and Jenn are on the block and up for eviction.
There are 10 people left in the Big Brother house. The 2 people up for eviction ( Jenn and Boogie) as well
as the Head of Household (Shane) are not able to vote. The 7 houseguest who are safe from eviction will
vote out Jenn or Boogie). Dan, Britney and Danielle are voting to evict Boogie. Frank, Ashley and Ian
are voting to evict Jenn (they do not know about the "Quack Pack" a secret alliance that Ian is in with
Dan, Shane, Britney and Danielle). Frank and Boogie think that if they can get Joe to vote to evict Jenn
from the house that Boogie will be safe. Everything that occured on Wednesday is based off of how Joe
decided to vote.
Boogie is up at 8:09am. He goes to look out the back yard door and it looks like there is a "Lock down".
Frank gets up about 10 minutes after Boogie. They both are in the bath room and Frank begins to tell
Boogie everythingthat transpired between all the houseguest (including himself) last night while Boogie
was sleeping.
Frank began first telling Boogie that he talked with Joe about how he was going to vote and that Joe said
it was a "no go" in regards to voting to save Boogie from being evicted from the Big Brother house on Thursday.
Frank told Boogie that Joe is saying he does not trust Ashley to vote with them because she has been
telling everyone different things in regards to who she is voting out on Thursday.
Boogie is very calm after hearing Joe won't vote to keep him in the Big Brother house.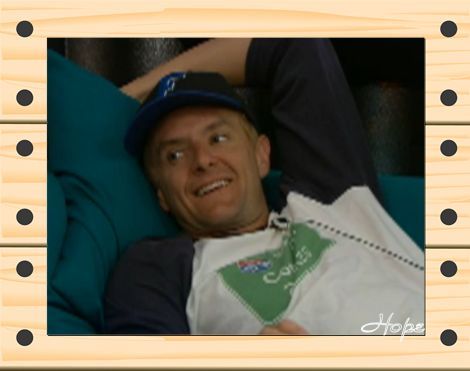 Boogie says it is refreshing that he can act on some of his feelings instead of holding them in because holding them in has been hard on him. Now he can go out saying what he wants to. Boogie tells Frank "The first time I was on Big Brother I left with a great friendship with Dr. Will and I will leave this time with the same so I win".
Ashley gets up about 9:30 am and Boogie gives her a hug and says he is sorry about the way Jenn
treated Ashley when she found out Ashley was voting to save Boogie. Ashely tells Boogie she is going
to call Jenn out on things she is aware of in front of the house in hopes of swaying some of them to change their votes and evict Jenn.
At 10:35am there is a HOH lock down and all the houseguest are gathering in the HOH room.
Boogie takes the opportunity of having everyone together at one time to address all the houseguest and says theydo not need to fight or make it negative. He says "there is no grave to dance on". 3 of them in the room got tricked into the playing the game, he already won the game in his previous season and has nothing to prove to anyone. He does not want people crying or fighting or saying things they might be embarrassed by later. On the monitor in the HOH room there is a shot of the backyard. There are balls everywhere and the monitor is quickly turned off by production. Some of the Houseguest are speculating that there may be a double eviction this week. The HOH Lock down is over at 11:34am.
Frank tells Ashley he is thinking about offering a deal to Dan that would keep Boogie in the house. He wants Dan to change his vote to keep Boogie safe because no one would ever think it was him who changed his vote to keep Jenn safe and in return Frank would keep Dan safe for one week and off the block. (That is assuming Frank wins Head of Household).
At 12:39 the houseguest are allowed to go to the backyard and there is nothing out there (all the balls are gone). About 1:32pm Frank talks to Dan about keeping Boogie in the house in exchange for keeping Dan safe for one week when or if he wins HOH. Dan listens to everything Frank says, but never agrees to a deal and simply says he admires Franks hustle in the game. After Dan tells Britney and Danielle about Frank offering him a deal in exchange for Boogie not being evicted. When Danielle ask Dan what he said to Frank in regards to the deal Dan tells her that all he said was he admired Franks hustle.
The houseguest spend the next few hours talking to each other at different times about everything that is going on and some are beginning to get nervous and paranoid because of all the different people going back and forth having conversations with each other. About 6:08pm there is another inside Lockdown and the houseguest are not able to go to the backyard. The houseguest carry on the same as the previous hours except now they are all in the house instead of in the backyard. Britney is upset because she misses her husband and its his birthday. She breaks down in the bathroom and cries. Danielle consoles her.
Lockdown is over about 7:27pm and the houseguest are in the backyard. The houseguest are told they will be allowed to practice for a upcoming competition and they have to draw numbers for the order in which they will practice.
Jenn practicing for the competition on Thursday.
All 10 houseguest were allowed to draw a number for their place to practice for the competition. Ian says the game they are practicing for must be a second HOH competition because Frank who is the current HOH is also practicing. The outgoing HOH does not participate in the new HOH competition. This means there is most likely going to be a Double Eviction this week. There is a wooden board that is tilted and has numerous holes or slots of differents sizes in it. on each side of the board there is a rope that attached to a long thin plank.There is a big red ball that has to be moved from
the bottom of the tilted wooden board to the very top of the board and dropped in one of the holes or slots at the top. They must get the ball to the top and avoid all the holes or slots on the board. They have to use the ropes attatched to plank to make the plank slide up or down and the ball must be on top of the blank. Each houseguest gets 5 minutes to practice getting the ball up the board to the slots at the top.
About 8:10pm while everyone is outside still practicing for the comp Boogie is packing his belongings and seems upset. He is breathing heavily and sounds like he is whimpering and fighting back tears as he is packing and wiping his face with a towel (possibly wiping away tears).
Boogie upset and packing to go home.
Everyone is surprised at how well Ashley did during the practice competition in the back yard. Britney is getting upset because Ian is telling everyone that he thinks there is going to be a double eviction because Shane was allowed to practice for the competition. (I think Britney wants the other people to figure things like that out for themselves)
The houseguest spend the next few hours going back and forth with talk of double evictions, making sure Ian puts Frank on the block if he wins HOH, whether Ashley is jealous of Danielle, Ashley telling everyone different stories (lies) and Britneybecoming more and more annoyed with Ian. Britney tells Ian she is worried that Ian may throw the HOH for Frank. Ian keeps trying to reassure Britney he will not throw the HOH for Frank. Britney is also worried that if Ian wins HOH and does not putFrank on the block that Dan could go home because of it.Britney is raising her voice while talking to Ian saying he is getting he best of both worlds. It is clear she is angry and very annoyed with him.
Britney looking annoyed as she is talking to Ian.
At midnight all the houseguest gather together to celebrate Britneys birthday for awhile.
The rest of the night is spent talking about the importance of making it to the final 5. There is alot of quizzing going on by the houseguest about things that happened in the house incase they have a quizz comp, and of course everyone doing there part to convince Ian that he has to put Frank up if he wins HOH.
All the houseguest are in bed by 3:48am and all of them go to bed speculating what exactly is instore for them on Thursday.
~Thank you to all the Daily Updaters for your time and effort with the minute by minute updates!
-I apologize for the late submission of my recap. I was having problems with my video player and was unable to watch the flashbacks that I use for my recap photos.