8:59 am and Boogie was up before the rest of the house and he spoke to the cameras and said
2 Houseguests will be gone on Sunday.He apologized to the live feeders for this week
being so boring and he promised things will get better.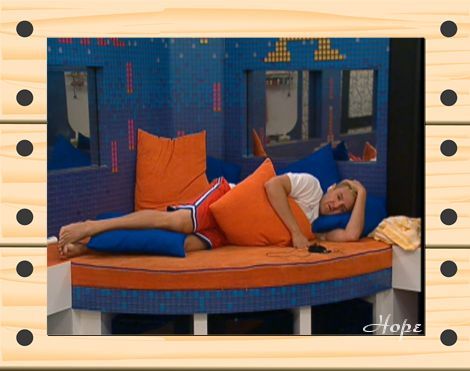 The Houseguest spent the afternoon outside swimming, tanning and excercising.
At 4:30pm the Houseguest are told they're about to go on lockdown. Leaving some
thinking there will be a double eviction, and others thinking there is an endurance comp
the next day.With the house on lockdown and the Houseguest spent most of the time talking
about past seasons.
Wil talks with Britney and she tells him she is upset with him for telling everyone
she was in an alliance with Shane, Danielle and Dan.
Wil talks with Dan and says he does not like campaigning against Joe because he
thinks Joe is a good guy. Wil tells Dan that he thinks Boogie talked Frank out of
backdooring Dan.
Wil talks with Shane and tells him that he never mentioned any names to Frank in
regards to backdooring anyone. He said that Frank came up with backdooring
Dan himself.
Later Boogie mentions he has no problem play with Dan further in the game just not
that much further. Frank says he feels more comfortable working with Dan since Boogie
is so confident.
The Houseguest play poker and eat.
Danielle, Ashley and Britney have a spa night with Ian, giving him a facial and removing his underarm hair.
The night ends with the Houseguests all chatting and playing games together.
Wil always is fun to watch. Even being on the block this week he still made us all laugh
with moments like this.
The live eviction is tomorrow. Is this Wil's last night in the Big Brother House?
~Thank you to all the Daily Updaters for all your time they put in updating.