10:30 AM
As we check in on the BB turned Frat House, we find the House Guests get a late wake up call. Hayden is the first to actually get up.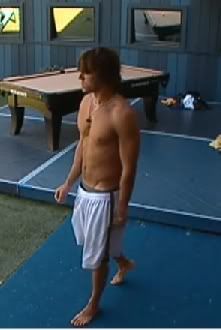 Noon
They are cleaning up the place. Enzo is seen picking up used towels, folding them and then putting them back on the counter.
Lane cleans the vanity top. He and Hayden discuss what to do about a stain in the sink that won't come out.
Not long after, Enzo and Lane are apparently exhausted and go back to bed.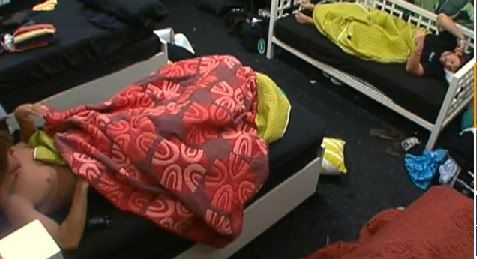 Hayden does laundry and tosses the Nerf ball by himself to pass the time before joining the others.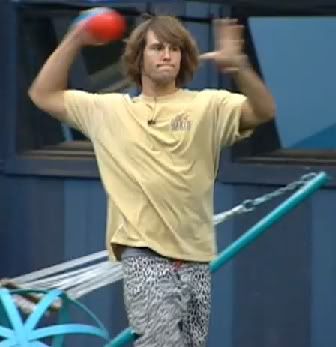 4:00 PM
Everyone is awake and chatting outside. They go on an outside lockdown.
When the lockdown is over, Lane checks the house. Enzo asks, "No sumo wrestler inside?"
6:00 PM
Enzo complains to Lane about an earlier conversation he had with Hayden. Reportedly Hayden said Enzo would win in Final 2. Enzo gives Lane reasons why this is not likely.
While Enzo is in the Diary Room, Lane and Hayden chat. Hayden is not happy with the Diary Room saying its been a long time since he made a Final 2 deal with Lane and asking if it is still on.
The 'Pool Trophy' bowl has reappeared.

When did that happen?!
7:00 PM
While they are eating they are startled by a loud pop. They all look up and one of them asks, "Was that a light?!" We are then treated to several minutes of Bubbles. (ed. This was actually the height of excitement for the day.)
8:00 PM
They all play Black Jack and talk about Jokers (the cards, not the web site).
9:00 PM
Sho2 Crawl: Hayden and Lane will face off in the final HOH competition on the season finale on Wednesday. The winner will choose who he wants to sit next to in the Final 2. The 2 hour Big Brother season finale will air live Wednesday night.
A little more laundry to be done.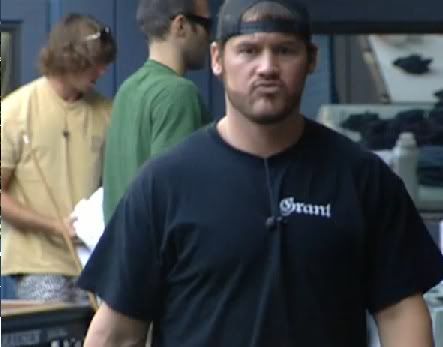 Lane does not look happy about this.
They have given up cards to go throw the Nerf football outside.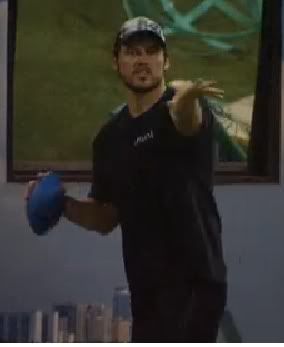 Enzo takes a stab at cleaning the mirrors.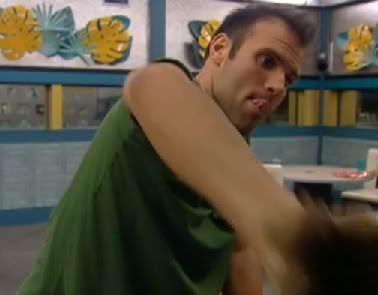 Chatting on the outside couches, Enzo wants to know if a plane can fly if a wing falls off.
He also wonders how birds know how to fly.
Lane takes his second 'long' shower of the day but is interrupted at an awkward moment by Enzo coming in to floss.
They realize the windows aren't much better than before Enzo cleaned them and they are amused.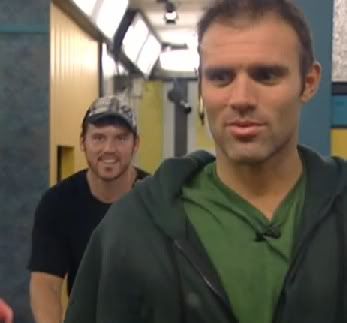 Getting ready for bed.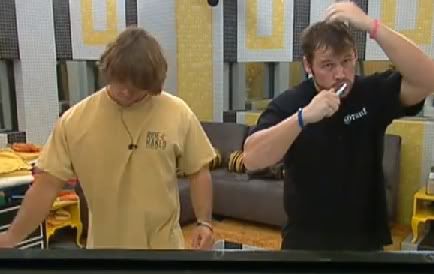 While Lane settles into bed, Enzo flies his space ship around the room.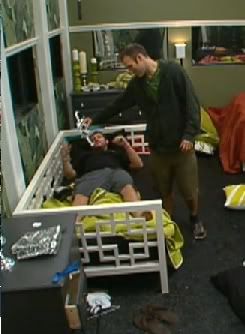 11:00 PM
All 3 have already gone to bed. The house is restless but mostly quiet.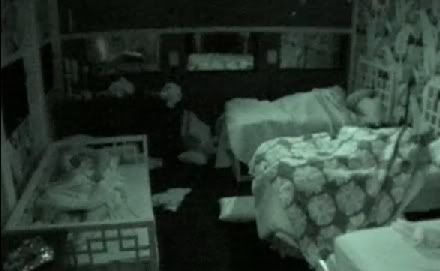 With only one more full day left in the house, will Enzo be able to convince Lane and Hayden that he is the one that can be beat in Final 2? Or will the Lane/Hayden deal prevail? At this point in the season, will anyone actually read this recap?
Thanks as always to the excellent Updaters that make these recaps possible.
Enjoy the finale everyone and wish hard for a slightly more feed friendly cast next year :-)